You guys, Eloise turned four last week. How did that even happen!? I feel like I just gave birth to her like, yesterday! I can still feel my fingers running through her insanely long (and poky!) hair… I can smell her little newborn scent, and hear her little tiny newborn cry. FOUR YEARS!? No. I can't deal with that.
She DID, however, inform me that she isn't grown up yet, so I shouldn't be sad. She will be grown up when she is eleven, but will turn into a mermaid when she's 5. Plus, when she's a mermaid, I can just sit and relax while she swims. So there's always that to look forward to next year.
ANYWAY!
For her party I really wanted to keep it as stress free as possible. Hazel's Kitty Party changed my life, so, I've dubbed all parties forever more "NO STRESS"
Eloise has been planning a dinosaur birthday party at the swimming pool since January. She literally had every single itty bitty detail planned out. Until the week before her party, when suddenly, she had a new idea for a theme. Are you ready for it!?
CARROTS.
I kid you not. The girl wanted a carrot party (with carrot cake, mom!)–So that's what she got.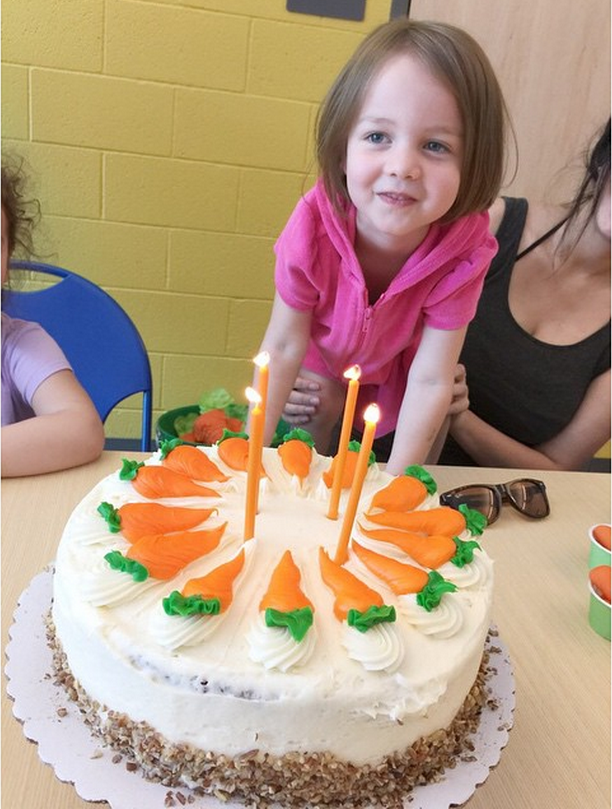 Surprisingly, I still wasn't super stressed out about it. Probably because I took ideas off of Pinterest (just typed in "carrot crafts" in the search bar, and tons of great Easter posts popped up) and I just went with it, adapting all the ideas just a bit because, well…I can't follow directions. And I bought a cake at the store instead of making it. That changed my life!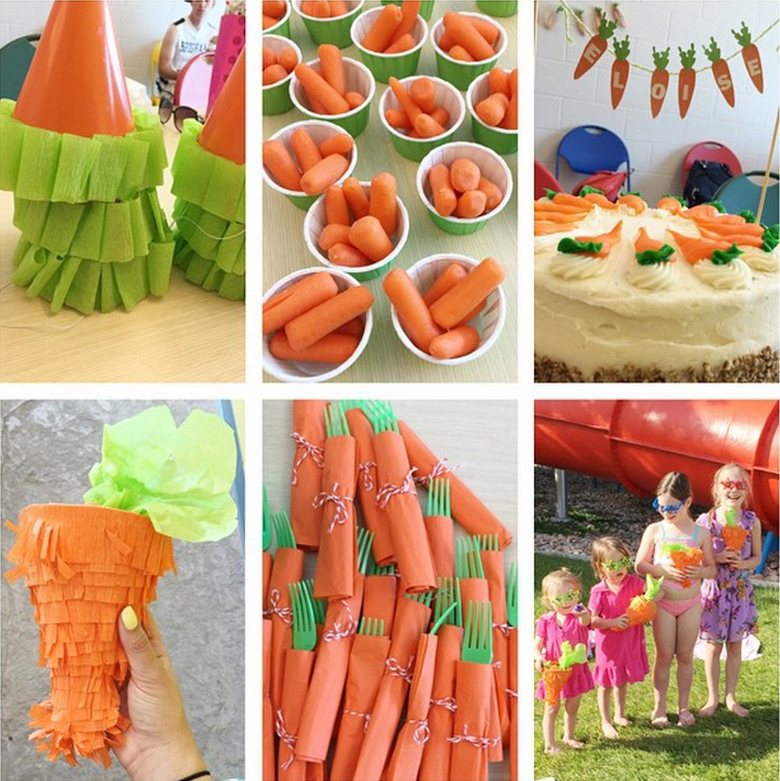 Copied from: Carrot Pinata (adapted) – Forks – Carrots in cupcake liner – I also made this but forgot a picture. Woops!
It was so much fun, you guys. I literally showed up like 5 minutes before the party started, and threw everything in its place and called it good. Then, we broke ALL party rules, ever.
We opened gifts very first, then ate cake, then finally? We went outside and swam at the pool. I KNOW. Rebel status, right? But honestly, we didn't want to have to round everyone up after a set amount of time to do "party" type things, and also we wanted people to be able to leave whenever the crap they wanted and not have to do that awkward "ahh I want to leave, but don't want to tell the hostess…" thing ya know?
It was the perfect way to celebrate my little four year old, and everyone (especially Eloise!) loved the carrot theme. PHEW.