This post is brought to you by I Love to Create and Blueprint Social. The opinions are my own.
Last week, I got to throw a Toddler Tie Dye party. It was so much fun to gather a few friends with kids together and really welcome the summer vacation we have coming our way!  We decided it was our official "Tie Dye Your Summer" Party.
Luckily, iLoveToCreate provided everything we needed to throw a great little tie dye party. The Tulip® One-Step Tie-Dye Kit® was really all we needed. It came with 18 different colors, gloves, rubber bands, and a plastic table cloth. This nifty little kit was so great to have because then I didn't have to run around and grab all the supplies.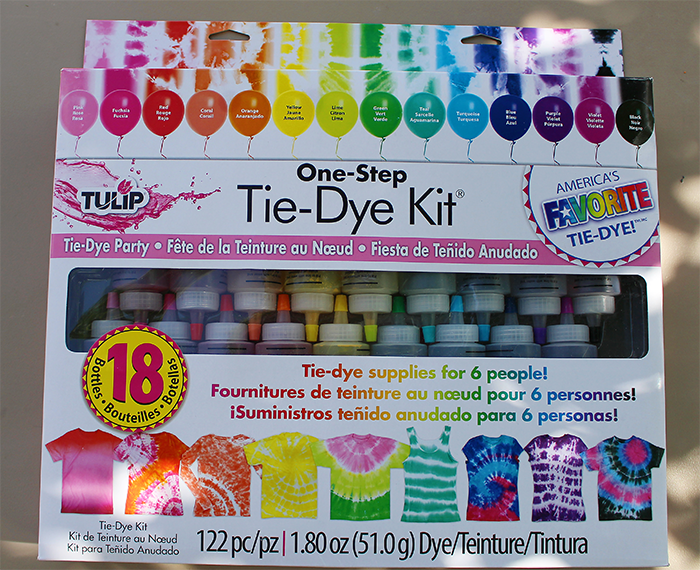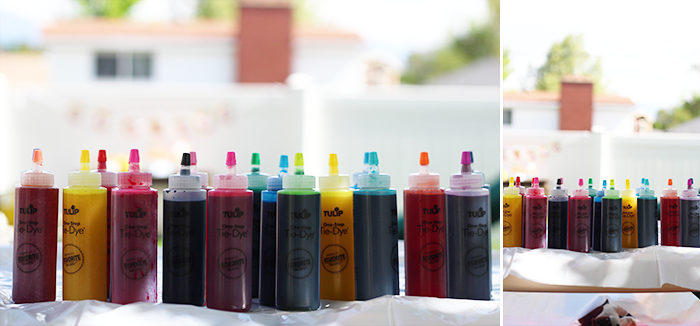 And, maybe my favorite part? The Tie Die Your Summer website has so many fun printables to make throwing a party a breeze (while looking like you spent forever on the prep).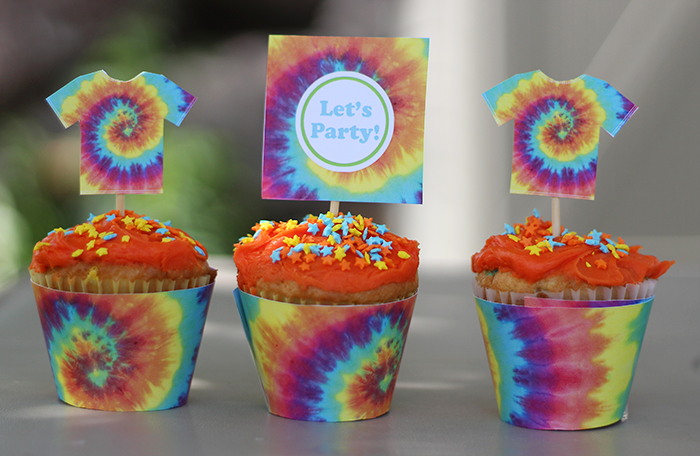 For the cupcakes, we decided on Funfetti with bright orange frosting (which my 3 year old decorated). Looking back, this might have been a mistake. But gosh, it looked cute with all the bright tie dye colors!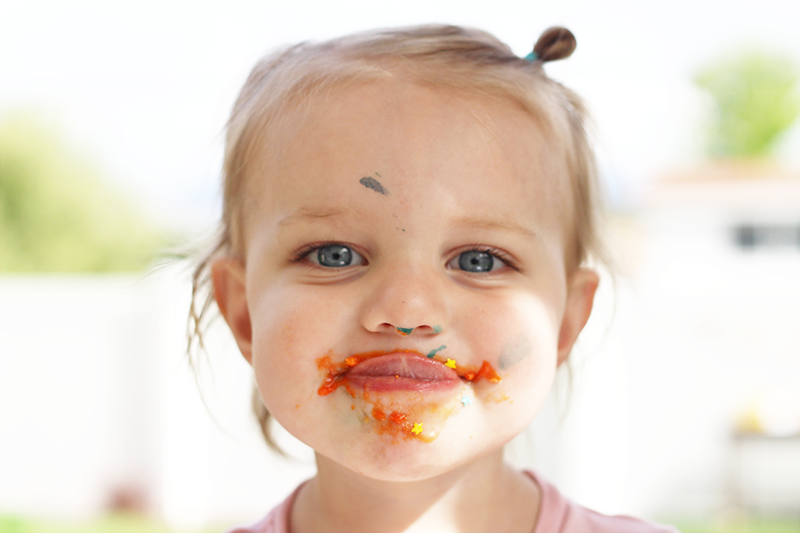 I don't know why I thought it would be a great idea to tie dye with kids. Especially given my history of…well…Wanting things to go a certain way. It was HARD to sit back and watch those kids get all messy.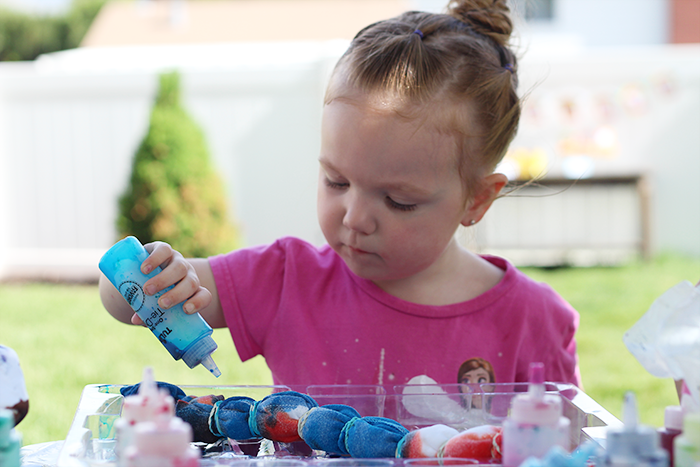 But, I am always happy when I finally just let go and let my kids (and their friends, in this case) take the reigns in the crafting department. They always end up surprising me with their talent. Can you believe a TWO YEAR OLD made this one? I was blown away (you should have seen the one I made…One word…Awful.)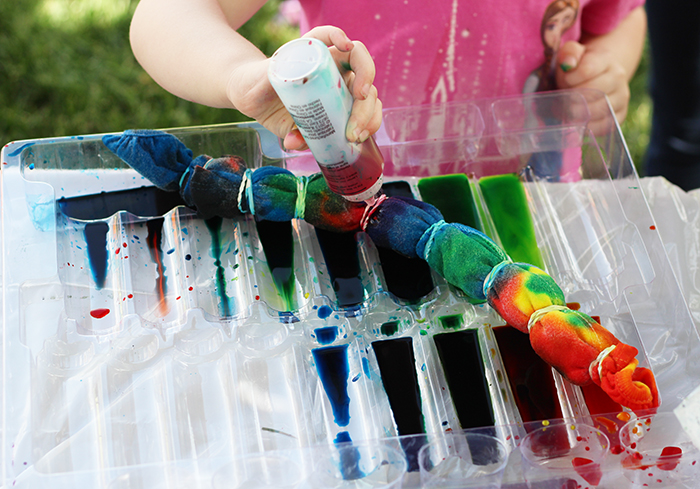 This party was so much fun. At first, I was super leery about letting a bunch of 2-3 year olds use dye…But, it ended up really fun. I DO have a few tips for staying clean  containing the huge mess, though!
First, wear the dang gloves.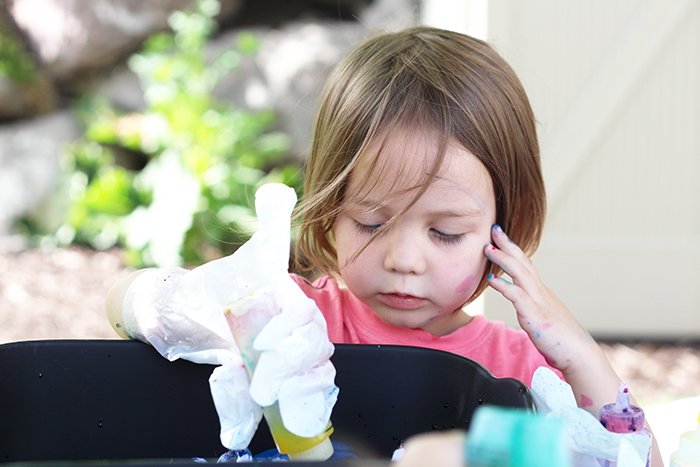 I know! It's easy to get carried away and forget–But, trust me. My hands have been purple and red for a week (picture proof below)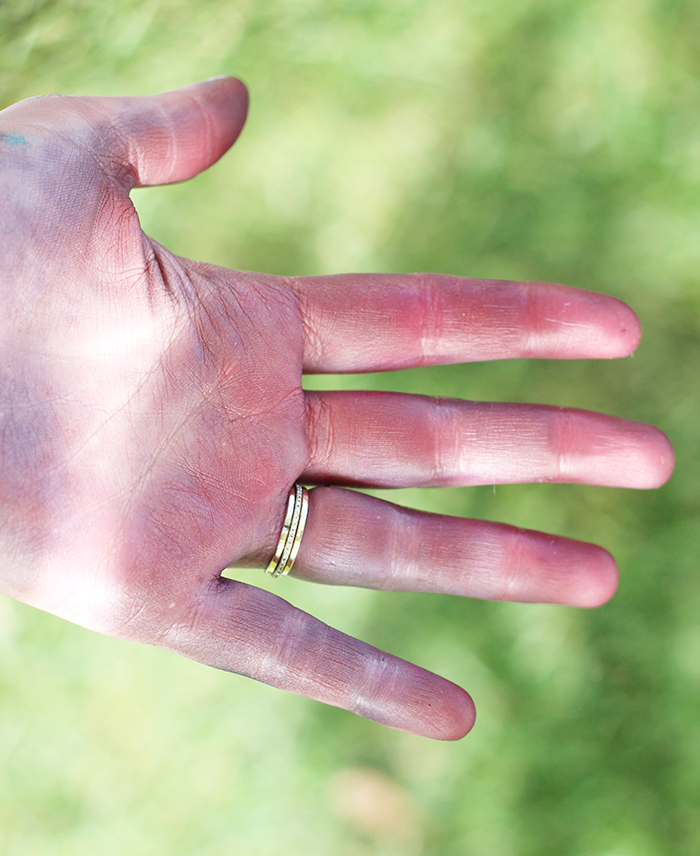 Next, invest in some bins! I just picked up a few bins from the Dollar Store and let the kids go to town squirting their dye on their items.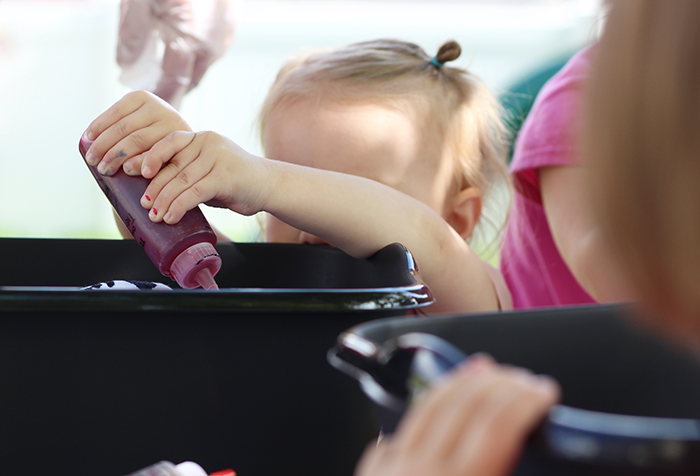 Also, be sure to wear old clothes or an apron! I saw the cutest little aprons at the Dollar Store the other day, and was kicking myself that I didn't buy them for the party. They would have been perfect and helped keep the splatters away from our clothes.
And last, use a plastic table cloth! That way, all the mess can just be rolled up and thrown away.
Wait! I thought of one more tip. Never ever (ever…Under ANY circumstances) host a toddler tie dying party in your house. NEVER. Do you hear me? Always party outdoors or you might cry when your favorite rug gets dyed purple (that didn't happen to me, but I had nightmares about rain and having to move the party indoors…AHH!)
I know all of those tips might be obvious to some of you, but when I get in "party mode" I totally forget all logic! So, hopefully this is helpful for some of you.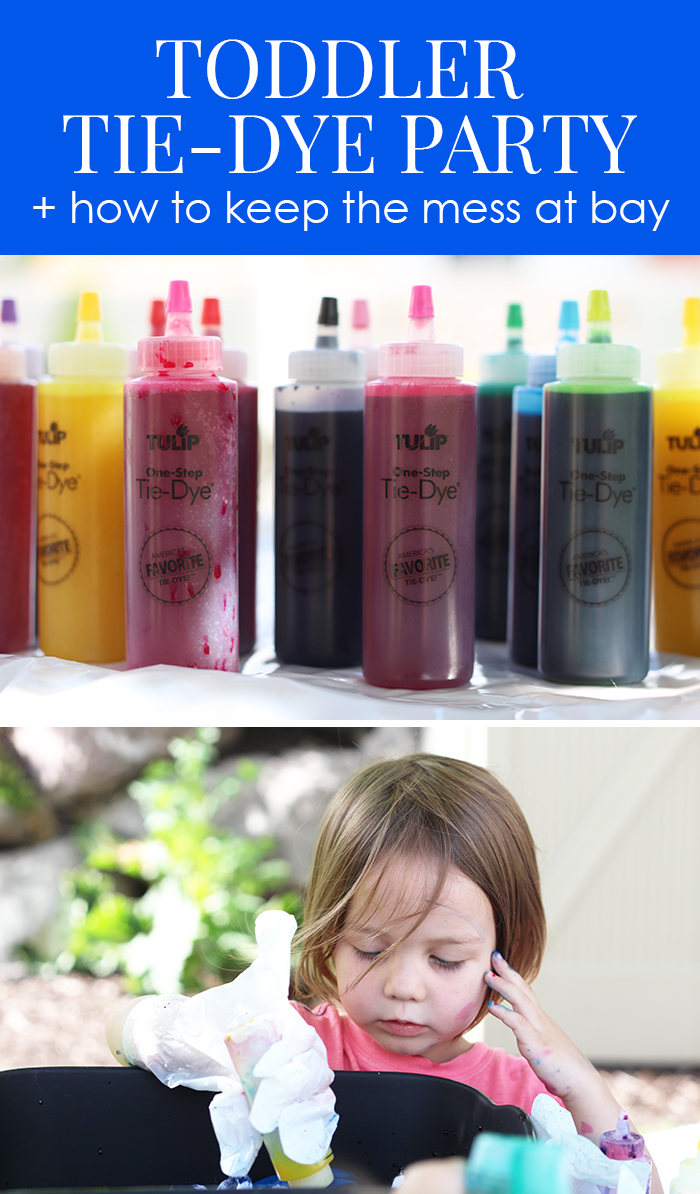 So, guys. Any tips you want to add to the list? Maybe you know a killer trick on how to remove dye from your hands? I could really use it! I have scrubbed them raw, I swear!
Want more party ideas and tutorials to help #TieDyeYourSummer ? Follow iLoveToCreate on Facebook, Twitter, Instagram, Pinterest, Tumblr, Google+, and YouTube!