A few months ago, my girls' behavior was seriously driving me insane! They were being super sassy and just really not listening to anything we said–Ever!
I was seriously asking Tyler every night "can you hear me? Because no one else in this house seems to be able to"…Of course, that was a joke. But guys! I was frustrated and I knew we needed to come up with something to help our household be a little more under control.
So…I brainstormed a ton, and then vaguely remembered a behavior chart that one of my teachers growing up had. It seemed like the perfect thing for my "unruly" girls. So I opened up Photoshop and got to work.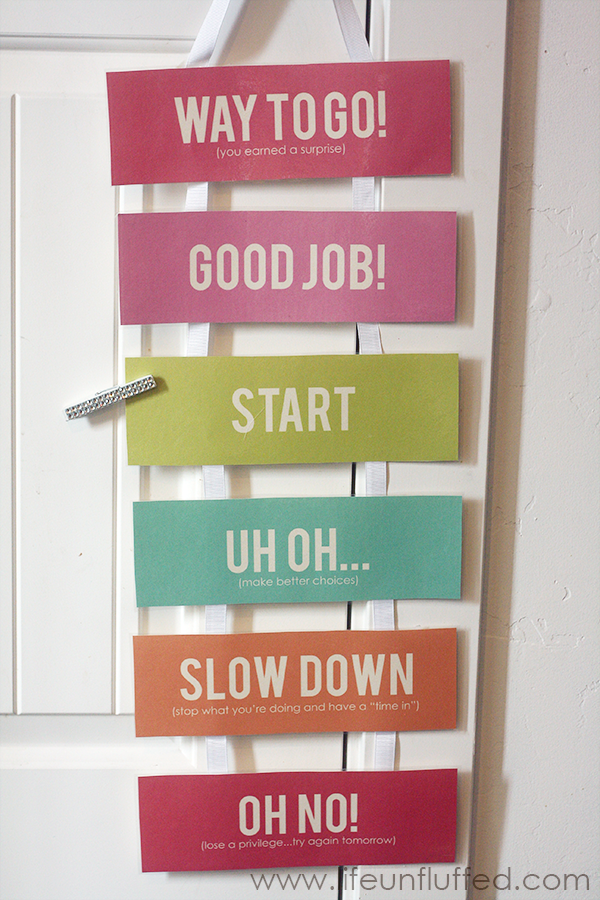 Once it was done, I printed it off, laminated it, and then taped it to some ribbon so I could hang it on a door knob right at their eye level.
Each day, the gals have a clothespin that starts on "start" (I KNOW!) and can go up or down from there. The steps are as follows:
Way to go!
(you earned a surprise)
Our surprises are usually things like a piece of candy, a small toy, or being able to stay up "late"             and watch a show. They only land on this maybe once every week or so.
Good Job!
This is where the girls usually end up. And, they are satisfied with it…So am I!
Start
Uh Oh…
(make better choices)
This is usually the lowest my girls ever get. That reminder that the next step down equals a                     "time in" (more on that below) seems to do the trick!
Slow Down!
(stop what you are doing and have a time in)
We've decided against time outs in our house…Just because our girls are super sensitive to                     them.  So, here we do a "time in" which means they have to drop what they are doing and just sit           with us and explain why they're feeling how they are. This isn't a horrible thing…It just sort of               gets them to calm down a bit, while not getting their feelings hurt too badly.
Oh No!
(lose a privilege… try again tomorrow)
Luckily we have never made it to this point, but if we did, they would lose some sort of privilege.           Maybe like T.V. for the rest of the day, or they may have to go to bed early.
I'm actually REALLY surprised at how well this has worked for us so far. So, I thought I'd post it on the blog in attempt to help other helpless parents eat a little less ice cream at the end of the day (is that just us!?)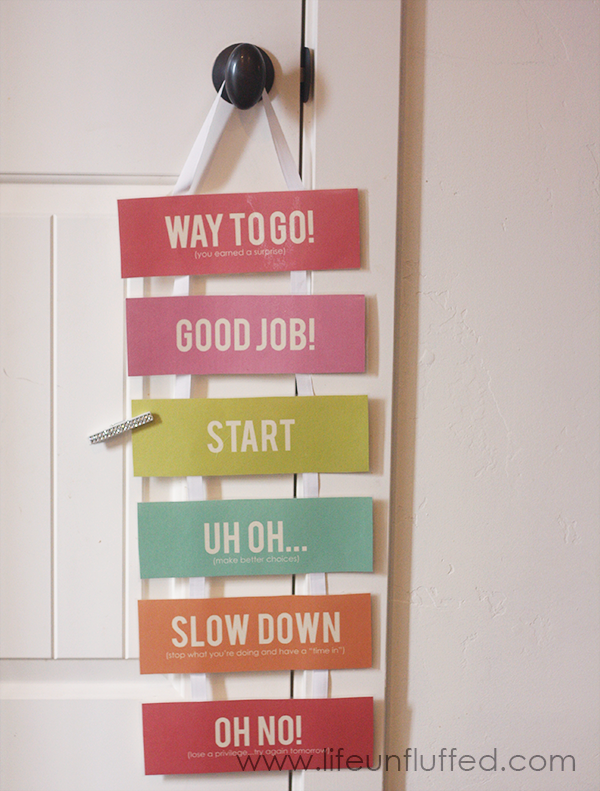 Click HERE to download.
Thanks for reading and sharing!