Oh man, you guys. The social media love over this pregnancy is really getting to me. How lucky am I to have a community of women I've never met, be so supportive of me and my family!? I am so grateful for each and every one of you, who has been here through the ups and the downs of our crazy life. I could kiss you!
But anyway–Now that I am 15 weeks along in my pregnancy with baby #3, I thought I should write a little bit about how it's going, so I can look back at this post and remember every little emotion. It's crazy to me that, even after two other successful pregnancies, it can be just as exciting. But it is!
_______
I found out in early October that I was pregnant. I was really really excited, but also really really scared. After 5 miscarriages (4 before the girls, one before this baby), my view on pregnancy is a bit tainted.
I was scared out of my mind, and it didn't help that the next day we were leaving on a road trip to California to see Tyler's family. I was sure that the same thing would happen as last time, I'd miscarry on vacation.
Luckily, that didn't happen. Though, with every twinge and cramp, I was sure it was the end. Finally, I just had to tell myself "Erika! You are pregnant RIGHT NOW at this moment, and that is all that matters"…And that kind of helped keep all those crazy emotions and fears on the back burner, until the next cramp, anyway!
Right around 7 weeks, I had my first ultrasound.
Seeing that little blob on the screen (with a heartbeat!) made me SO happy. I just couldn't contain my excitement.
I told myself I wouldn't feel "safe" though, until we hit 9 weeks, since I had had a miscarriage at 8 weeks in the past.
8 weeks came and went, and soon we were at out 11 week appointment and we got to see our baby on the ultrasound again. It was just as amazing as the first time. A little baby there on the screen, with a strong heartbeat!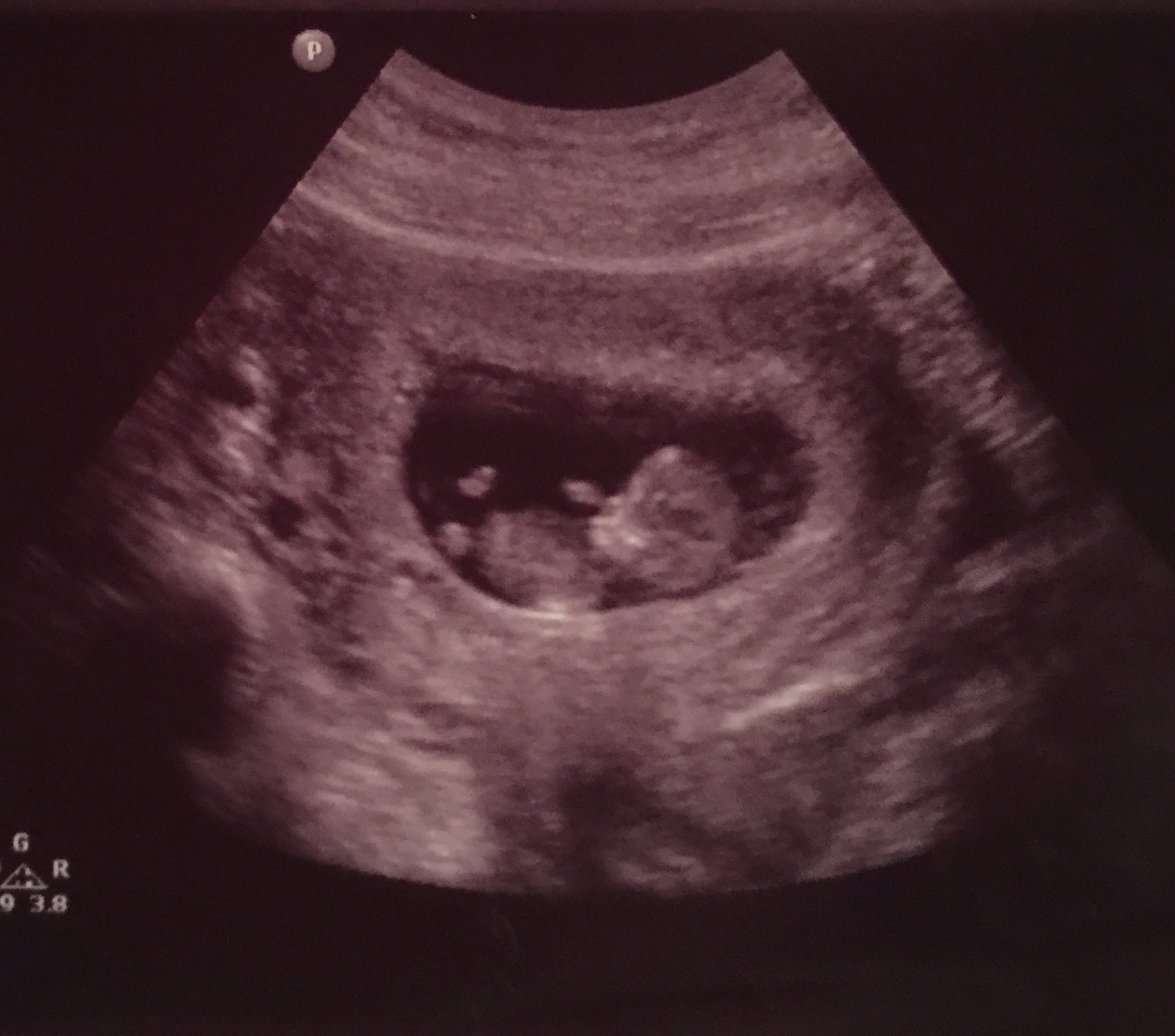 At this point, we felt pretty safe, but still wanted to wait a bit to announce to my family. My sister had just had a baby in November, and I didn't want to steal any thunder. Irrational? Probably. But, waiting and knowing it was just Tyler and my secret made things really special for some reason.
I was grateful when we finally decided to announce, though, because I have been sicker than a dog this go around. I was throwing up multiple times a day, and just generally being extra lazy. It was nice to let my secret out so maybe people wouldn't think I was TOO bad of a mom out in public in my pajamas…Or let my kids watch tv all day long.
We are SO happy this baby is looking healthy so far, and the girls can't wait to be big sisters!
Here's a little cheesy questionnaire, just so I can remember EVERYTHING! Who knows, this may just be out last little baby, so I've gotta go all out!
Pregnancy Questionnaire:
How far along? 15 weeks
Total weight gain/loss? This question sucks. But, I honestly don't know because I banned my scale!
Maternity clothes? Nope.
Stretch marks? No new ones yet!
Sleep? Not the best. I always have to pee, and it's hard to stay comfortable (already! ah!)
Best moment this week? We found out if the baby is a girl or a boy! I'll share here soon!
Miss Anything? Not feeling sick. This nausea is killing me, man!
Movement? Not yet! I am hoping I start feeling some in the next week or so.
Food cravings? No… Mainly food aversions to EVERYTHING.
Anything making you queasy or sick? Everything…Except toast. I can usually handle toast.
Have you started to show yet? Sometimes I think so, but other times I'm wondering how much of that is wishful thinking and left over fluff.
Gender? Can't say yet!
Labor Signs? Nope, thank goodness
Belly Button in or out? In
Wedding rings on or off? On
Happy or Moody most of the time? Moody, moody, moody. Sorry family.
Looking forward to? Feeling the baby move!