I can't even tell you how many times my friends (and even random strangers) have told me how easy their transition of going from one to two kids went. Most of them look at me like I have a third eye or something (Maybe they're just looking at that stupid zit in the middle of my forehead that won't go away… But, whatever) when I tell them that whoa, I totally thought going from one to two kids was hard. Really really hard.
I don't think I've ever cried so much.
Or begged so much for someone to come help me out, like, ever. Usually I mask the desperate plea with needing time to work (it's true) but in reality, it's mostly because I just need to be alone for an hour or two before I go crazy.
I hate that I can't just sit on the couch and cuddle the girls at the same time without one of them ending up crying. Or, the fact that I am always cleaning my living room, but it's never clean. And I definitely hate that I'm just so tired all the time.
As I sat here thinking of all the things that have made this transition so hard for me– I realized that it's my attitude.
Duh.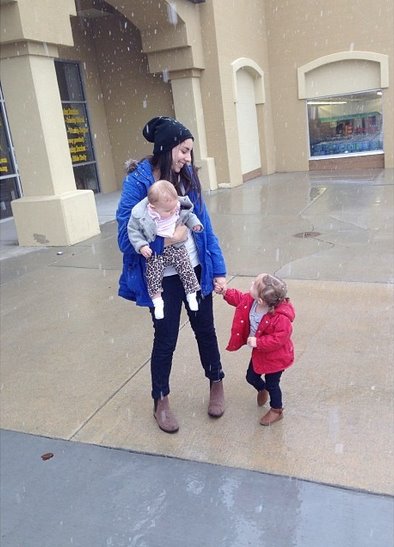 I'm willing to bet that all those people  claiming "the transition" went so smoothly aren't getting much sleep. I bet that they feel like a tornado just hit their house. And, I even bet that their kids don't always get along. And that sometimes, their house is filled with tantrums, middle of the night feedings, and needy kids.
The only difference is, they don't consider it "hard" because that's just how motherhood looks sometimes.
Being a mom is messy and loud.
It'll drive you insane and make you (for a brief moment) wish you could just be YOU again. Just you. Before you had kids and before every shirt you own has a food stain on the shoulder.
But you know what? Mothering two kids is also completely "easy", and definitely rewarding to boot. Seeing your kids play together for the first time just might make your heart explode (mine did).
I need to stop sweating over the "hard" and start focusing on all the "easy" of this mothering two kids  deal.
After all, I am so lucky to even have these two babes. I love them with everything I am.