We've all been there. Scrolling through Instagram and suddenly, BAM! Out of nowhere comes this perfectly dressed mom of five. You slowly look down at your own attire (pajamas at noon, obviously) and think "my life sucks". And…Oh no. "I am the worst mom. My kids are watching TV while I'm on my cellphone…I bet Lindsay* never lets her kids watch TV. Plus, I only have two kids which is three less than her… How does she do it!?"
You try to shake the feeling, but it just won't go away. Especially because you are STILL scrolling on Instagram and up pops Angie's* newest picture. She is feeding her kids organic something (you're not sure what it is, but you're positive it's healthier than that Lunchable your daughter's eating), and you think "I am the worst mom. My kids never eat organic because we can't afford it. Speaking of affording it… I can't afford anything I want. I bet Angie never even has to budget…"
Feeling worse, you continue to scroll. And, as if you didn't expect it, there is a picture from Donna*… It has perfect lighting and her kids are doing a really fun craft project. Your kids so happen to be fighting and there's a lot of screaming going on, and you think "I am the worst mom. My kids never get along long enough for me to take a picture of them. And, they never do art projects because I am so lazy and never plan ahead."
And, gosh, you guys! The cycle goes on and on and on. The scrolling continues, and you just continue feeling worse and worse. I have been there. Way too many times. And it's awful! We all know comparison is the thief of joy, but it is so HARD to get out of a social media mom funk once you're in it.
So, friends…Here are my
7 Ways to Combat Social Media 'Mom Funks' Before They've Gone Too Far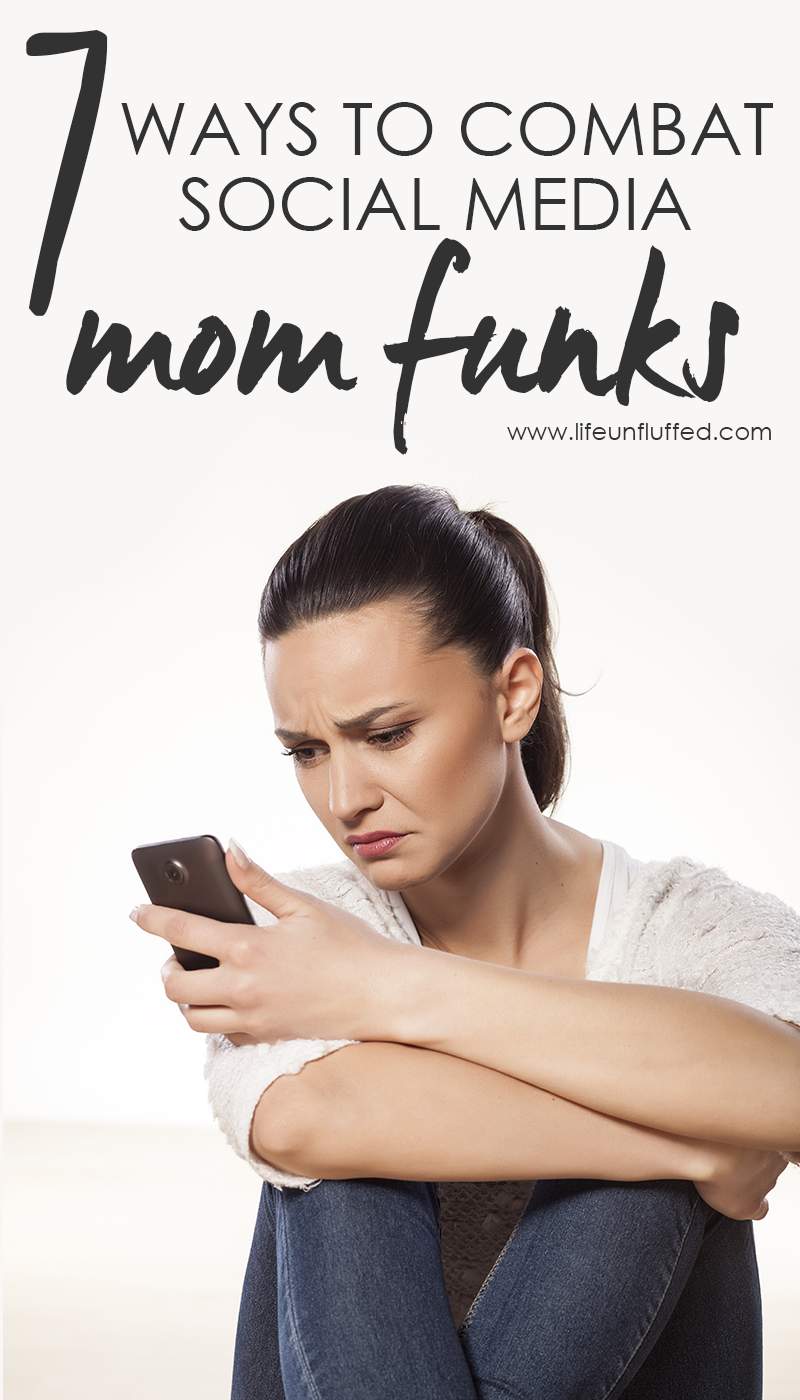 1. Stop what you are doing!
Maybe this is obvious, but stop scrolling. No matter how badly you think you want to keep reading, it's important to just close out of the browser (or app) and get your mind off of it. When you feel those negative feelings creeping in, just shut them out immediately…No matter how tempting it may be to keep on scrolling.
2. Take a walk outside.
Sunshine is good for the soul, and it'll feel great to get your heart rate up. I know that for me, once I feel sunshine on my face, I feel rejuvenated and my mind always ends up in a better place.
3. Think of the things you are good at.
Don't allow anything negative about yourself to enter your pretty little head. If you feel something negative coming, hurry and turn it around. This can be something as little as "I make great PB&Js" — As long as it is positive.
4. Do something for yourself.
Hide in your closet while eating your secret stash of chocolate. Or get a babysitter and go get your nails done. Just do something for yourself. Take a moment to be selfish because you matter.
5. Do some service.
Getting lost in service will help you quickly forget all your problems, I promise!
One week, I was in such a big funk, and as a last resort, I decided to bring a (different) friend a Diet Coke and a little note each day for a week. It was amazing to me how much helping someone else helped me feel back to my normal self.
Maybe try mowing someone else's lawn, or baking them cookies! Any random act of kindness will do.
6. Take a nap.
Assuming your kids are asleep as well (or you have a babysitter or someone else to watch them), seriously–Take a nap. Sometimes all you need is just 20 minutes (or 3 hours, if you're anything like me) to re-charge that mama battery of yours. Sleep cures all!
7. Remember that just because your friend is a really good mom, doesn't mean you aren't.
You are both great moms, even if you show it in different ways. In the long run, staying in your PJs all day or not planning extravagant art projects really doesn't impair your ability to be an awesome mom. You and your friend just mother in different ways — And that's okay!
Do you have anything else to add to the list? What helps you get out of "mom funks" triggered by social media?
*all names were changed for this post– But they all have for real, cross my heart, happened to me before as I scroll my feed.